The Devil Awards
Project Devil is AOL's effort to create a more beautiful advertising experience for our advertisers and our visitors.  By giving an advertiser 100% SOV on a page Devil Ads reduce ad clutter, give users more of the content they want and also give our advertisers a platform for building their brand, showing off products, and enabling real call-to-action.
The Devil Awards celebrate the best of the best across five categories.  This was a pretty fun project for me to work on because I got to design the interface and also do the initial XHTML/CSS build of the front end.  I'm no super front end dev, but this was good nerdy fun and, I think, it helped take some of the build off of our overworked developer's plate.
My colleague Emmy Morton designed the logo, I designed the UI and theme as well as did an initial HTML/CSS build and our developer Ben Woods wired up the back end in Drupal.
Design and build work below.  The final product is available at devilawards.aol.com.  The final design actually highlighted 3 ads instead of just two.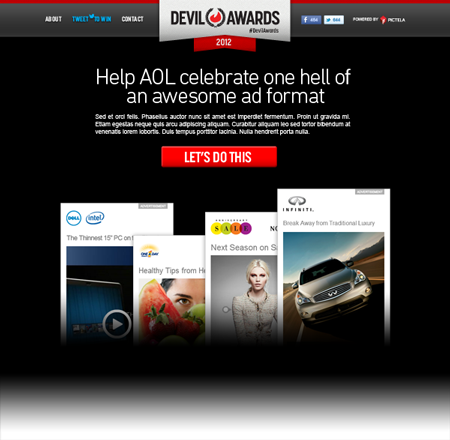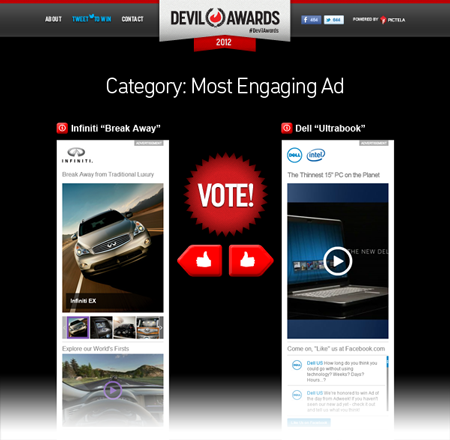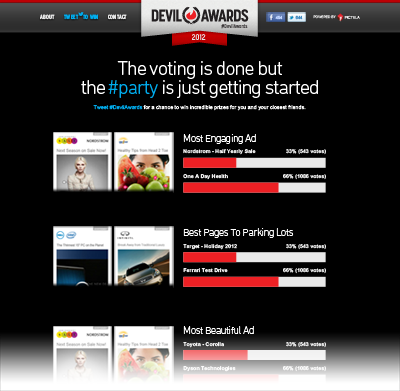 Devil Ad Promoting The AOL Devil Network
And here's an AOL Project Devil ad I designed that promotes the Devil Network itself. This ad flew on hyper targeted industry sites like AdAge.com and AdWeek.com.
The results are in:
Total Impressions Delivered:  130,440
Interaction Rate**:  10.04%                        +5.16% above benchmark
CTR:  0.18%                                                     +.04% above benchmark
Avg Interaction Time:  26 seconds            +2 sec above benchmark
Avg Exposure Time:  241 seconds             +79 sec above benchmark
Avg Video Completion:  44%